Hello my friends! Welcome! Today, I am sharing my Make Nine 2018 sewing projects' list. This blog site wasn't up and running until the end of January 2018, that's why I am just now making this post on the 2nd of February. Since I want to focus on building a vintage wardrobe, I have decided to put vintage style patterns on my Make Nine 2018 list. As I mentioned in a previous post, I really like the mid 20th century style clothing and fashion. In regards to vintage styles, the mid 20th century is between 1920s-1960s. My efforts will focus on making custom vintage clothes inspired by the 1940s-1960s. Therefore, many of the projects I am doing this year is from that era, and the patterns listed on this Make Nine 2018 list are 1950s-1960s styles.
Simplicity 3129 is one the first vintage pattern on my Make Nine 2018 list, because I love everything about this pattern! It is a vintage 1960s Jackie Kennedy style pattern having only 8 pattern pieces in total, and easy to read instructions. I purchased this pattern on EBay along with 5 additional vintage patterns. The patterns were sold together and cost about $24.00 for the lot.  This pattern is uncut and in mint condition. I want to make both the dress and skirt as an outfit to wear to an annual Time out for Women's Conference in Cincinnati, OH on April 6-7. I also think it would be nice to make an Easter suit from this pattern. I'm very excited to get started on this project. However, it won't make it to my sewing table until early March.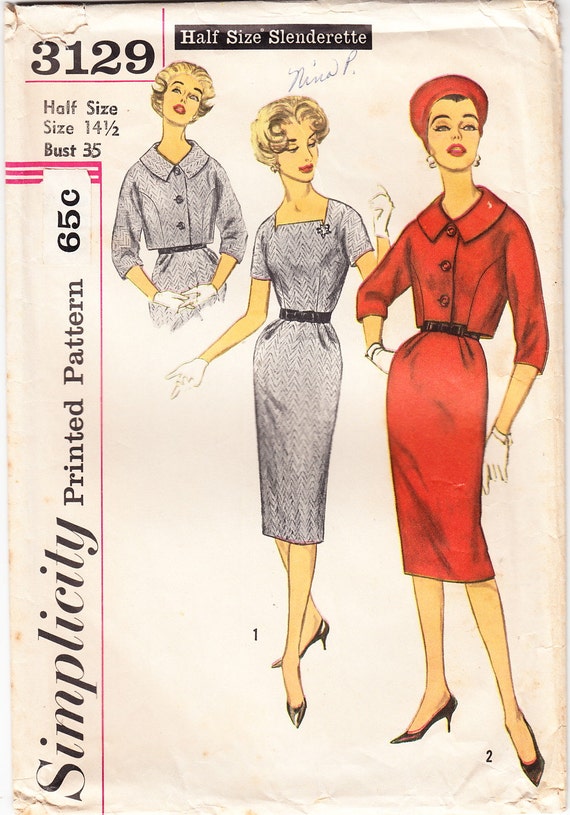 The second pattern on my Make Nine 2018 list is the Simplicity 1685 Slip Wrap Sheath  vintage pattern. This 1950s features a sweetheart neckline and functional buttons going down the side of the dress and two buttons on each sleeve. I will likely use this pattern to make my 12th Wedding Anniversary dress. I love the details on this dress, especially the details of the sweetheart neck line. Although it is not shown in this image, this pattern has two views. The second view features pockets on the skirt part of the dress. I am going to make the view seen in the image below without the pockets. I have not had a chance to read the instructions of this pattern, however, I know there are at least 12 pattern pieces, so it may not be easy. I am hoping to make this pattern around the first week of March.
Next on my list is the very popular Burda Style 7137 pattern. It comes with three views featuring a Peter Pan collar and the option to make short, 3/4, or  long sleeves . I'm going to make view C, with the Peter Pan collar and short cuffed sleeves as a for Valentine's Day dress.
My Make Nine 2018 list wouldn't be complete without adding the New Look 6000 pattern. This pattern is really cute! I've done some research on this pattern, and I've found that this pattern is very popular. I can understand why! The details and style of this dress are simply gorgeous! I'm looking forward to making this dress later this year. This pattern comes with five views  I will be making view C, which is the view shown in the image below of the red dress with buttons on the neckband and sleeves. I'm a sucker for buttons. Adding buttons to a garment is a simple and easy way to add details.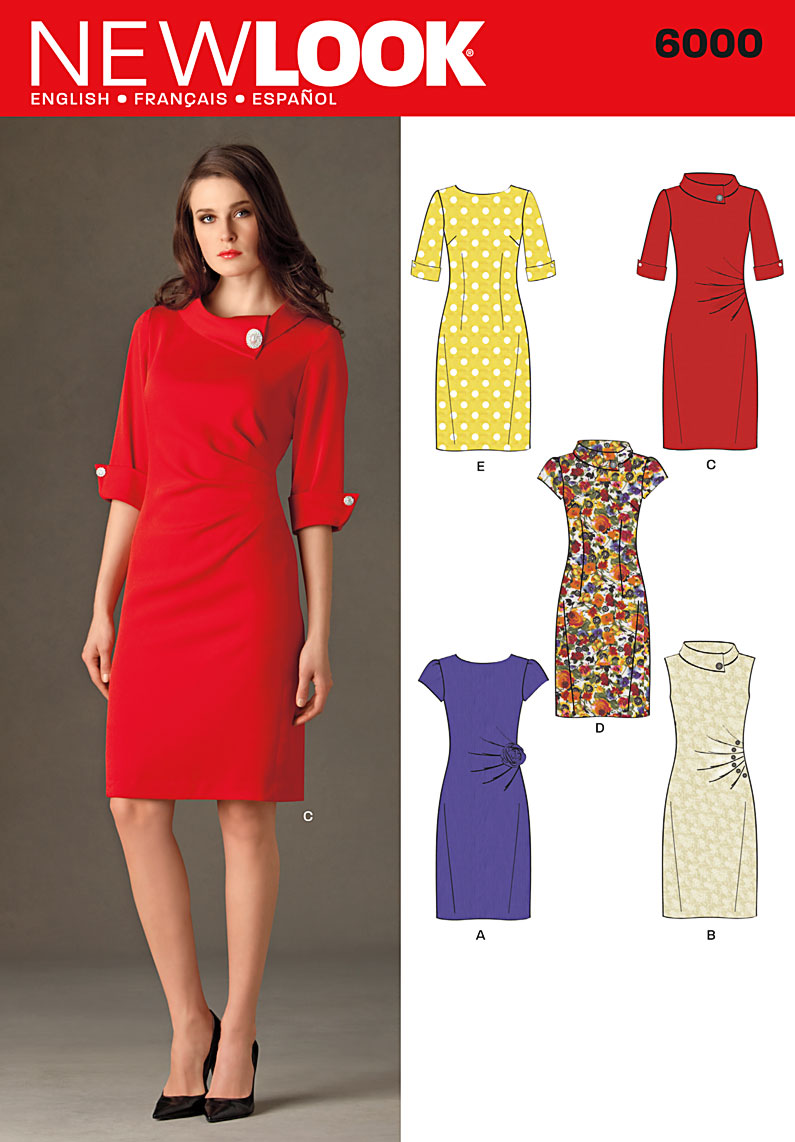 Number four on my list is Simplicity 8242! This is another popular retro pattern made by Simplicity. I have been wanting to make this pattern for some time now. I have already purchased the fabric for this project; it is a blue satin crepe fabric. I also purchased white crepe fabric for the cuffs.
I was shocked after I learned that this pattern calls for 16 buttons! 16 BOTTONS! WHOA! I had trouble finding 16 matching buttons that didn't cost an arm and leg. Let's face it! Buttons can be very expensive nowadays! I waited until Joann's had a 50% off sale and purchased white floral buttons.
Simplicity 8460 is very similar to the first pattern on my list, however, there is one key difference. The Simplicity 8460 pattern (seen below) does not have sleeves or a square neckline, and it also features a lace bolero of some kind that ties in the back. This pattern is very much like the Jackie O styles that I love. I will be designing several versions of this type of dress and jacket during my vintage sewing journey.  This particular style is more suitable for late spring or early summer, so I will likely make a spring or summer outfit for this project.
Another popular retro 1960s pattern is the must have Butterick 5747! It is supposed to be a very easy and simple pattern, only having 4 pattern pieces. I like the fact that It is easy, has buttons, and looks like a sailor's dress. I think I am going to make a blue or red sailor's dress for the 4th of July with this dress pattern. However, I will be making a few alterations to this pattern including lengthening the sleeves and shortening the skirt. I am very self-conscious about my manly arms so I like longer sleeves. Since I am already making a few slender sheath dresses this year, I have decided to make view 1 (the dress on the left).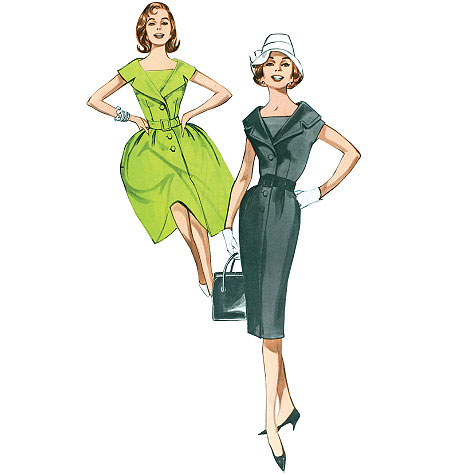 Butterick 6497 is a winter staple item. Originally, I wanted to use the McCall's M7478 vintage pattern for this sewing project. But after I did some researching I found that this pattern calls for more fabric than I have, I decided to redraft or recreate my own vintage coat pattern. I will be using this Butterick pattern as a guide to design my own vintage style 1960s coat. Since it is February, and I am getting a late start on this project, I might wait until later this year to make this coat for next winter. We will see how it goes, and if I have enough time in between projects to get it done before this season is over. Otherwise, I will likely start this project in late September of this year.
Lastly, I have the Simplicity 3682 1960s Vintage Sheath Dress on my Make Nine 2018 list. This pattern comes with two views and 10 pieces. View 1 features the dress with a button and view 2 is without the button. The pattern is fairly simple and I'm confident I can get this project done in less that a week. I'm looking forward to making this pattern as well.
I also want to make a several vintage style hats to accessorize many of these vintage style dresses . I shared a few 1940s hat styles in a previous post. You can read more about that here. 
As you can probably imagine, I have tons of fabrics just waiting to be made into something glorious. Although I am committed to making the above patterns on my Make Nine 2018 list, I also hope to make a few more garments through out the year, if time will allow.
Here are some additional sewing projects I intend to make this year…
I know it is a little ambitious of me to try and make all of these patterns, especially when I have a 3 year old who loves to jump and climb on things. We will see just how much I get done this year. Please continue to follow my progress throughout the year, offer suggestions and tips, and ask any questions you may have about these projects. I hope to hear from you!
Best wishes,
Tea